In ten thousand diamonds only just one is colored diamond, including the orange diamond, blue diamond, red diamond, pink diamond, green diamond, yellow diamond and other fancy color diamonds, so when purchase colored diamonds is mostly focus on the intensity color, when buying colorless diamond refer to the 4Cs standard, such as cutting degree and clarity degree, compare with colored diamonds, when buying colored diamonds are not the most important factors, so the color, intensity and color richness is considered as the most important factor in buying color diamonds. The more vivid color, color diamonds are rarer and more valuable, for yellow diamond, there is fancy light, fancy, fancy intense and fancy vivid color degree.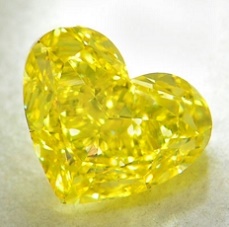 Colored Diamond Weight
Except for color, the carat weight has the biggest influence on the value of fancy color diamond, found big colored diamond frequency is much smaller than small colored diamonds when mining, this makes big color diamond more valuable. Therefore, color diamond prices rising with the carat weight.
Colored Diamond Clarity
Due to the color diamond require have a natural color, the importance of its clarity is not as important as other colorless diamond. This is because the inclusions are covered by the color of the diamond.
Colored Diamond Cut
The color diamond cutters focus on its natural color firstly. This is contrary to the colorless diamond, the colorless diamond is highlighted by cutting maximize diamond luster or shine, it need to colored diamonds appear more glorious consider when cutting the most important features.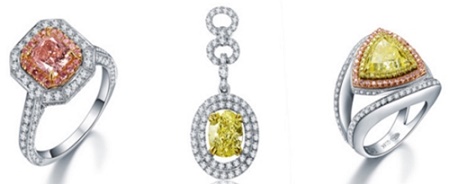 Fancy Color Diamond Inlay
It is best to choose the inlay material that can highlight diamond color when customize colored diamonds, for example, yellow diamond commonly used gold material, the beautiful pink diamond with rose gold inlaid. If you have any colored diamond questions, just contact diamond jewelry consultant of Leibish Company, they will help you learn more information for the color diamonds.
Colored Diamond Shape
It is worth noting that many color diamonds were cut into unconventional shape, such as emerald, princess cut or marquise, etc. In order to improve their qualities. Because of the rare characteristics of colored diamonds, a special shape, special color colored diamonds are difficult to get at a specific time.
Fancy Color Diamond Certification
All the colored diamonds from Leibish are appraised by the American college of gem (GIA) certification; through the laboratory identification of the diamond industry's most respected. And from the Leibish review, as the leader and pioneer in fancy diamond field, all the color diamond of Leibish & co. from natural and not a scam.